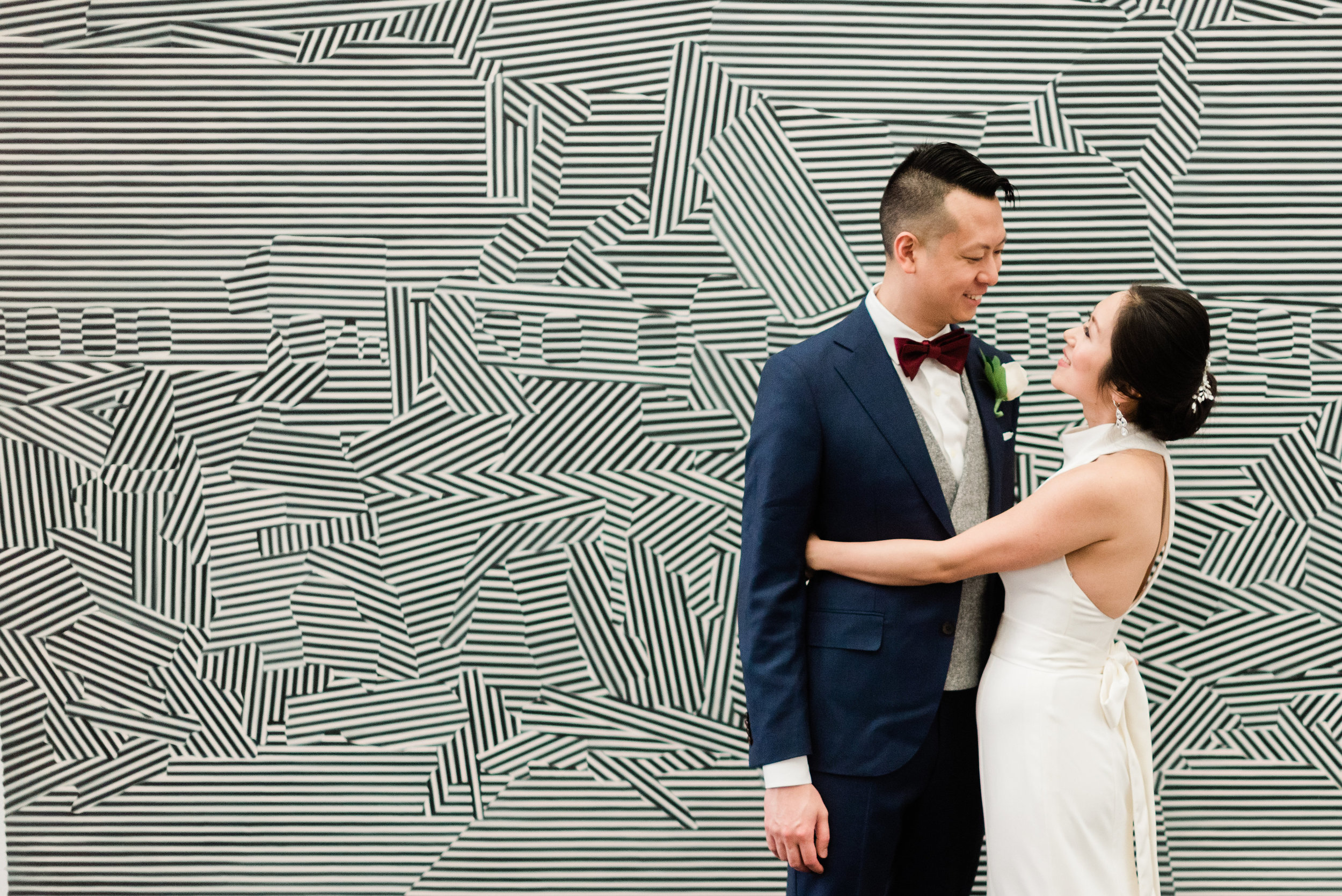 All photos by Danielle Heinson Photography
Kana and Larkin met during their undergraduate studies at Johns Hopkins University in Baltimore, but have since moved to different cities to achieve different advanced degrees. While Kana pursues a PhD in neuroscience and Larkin does his anesthesia residency in St. Louis, their love has held strong. The couple got married this past February at City View Loft in Chicago, gathering with family and friends from around the world for a beautiful and fun celebration. Below is an interview with the bride, Kana, about the factors that went into her venue selection and the strategies she used to pull off a stress-free wedding.
What elements of your wedding were most important to you and your partner?
"We wanted to plan it in a place people could get to easily. We had a lot of guests from out of the country, and Chicago is such a big hub for flights. Other than that we were just looking for places that didn't require a lot of extra decorations."
What were you looking for in a wedding venue?
"We were looking for a place where we could do both the ceremony and reception in one location because winter in Chicago can be brutal and we didn't want people to have to move around too much. And then we wanted a place where we could bring our own alcohol, which turned out really cool because we got to bring in some Japanese whiskey and do some cool stuff with that. Other than that, we were looking for a place that looked really nice and looked like we could just have the wedding there the next day without a lot of prep."
Tell me about why you chose City View Lofts and what made the venue so unique…
"It was the third venue we looked at, and both of us immediately decided it was the right place for us. It had a lot of natural light, and it was a very welcoming, kind of intimate but large enough to have 100 people. They have the ceremony area on first floor. It's like a converted warehouse, it has huge ceilings which are really pretty. And then when you go to the reception area they have a whole wall of windows that you can see the skyline of Chicago from, and it just looked really, really pretty and highlights some of the best parts of Chicago."
Were there any deal breakers when looking at venues?
"One of the other venues had a disruptive sightline. They had pillars sort of in the middle of the ceremony area, and that was kinda weird."
If you were to give one piece of advice to a couple planning a wedding, what would it be?
"Simple is best. For us, we didn't do a lot of DIY, but that was the right choice. I've read this before where people say to be careful about how much you want to take on with DIY-ing things to save money because in the end you're putting extra stress on yourself. I think that contributed to me being able to have a very stress-free wedding."
What does marriage mean to you?
"For me, marriage is a partnership where we constantly support each other and love each other and help each other grow because I think without growth, everything just becomes stale."
Looking for a unique wedding venue? Tell us what you're looking for and we'll match you to the best venues in your area for free!